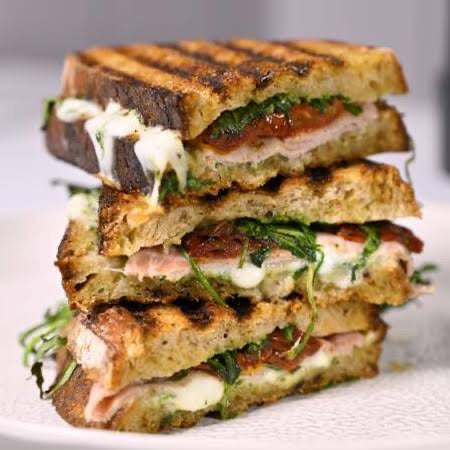 Ingredients:
2 slices of sourdough bread
2 slices of aged cheddar cheese
2 slices of
ham
1/2 an avocado, sliced
1/4 cup rocket
1 tablespoon whole grain mustard
1 tablespoon honey
Instructions:
Heat a panini press or grill pan over medium-high heat.
Spread a thin layer of whole grain mustard on one side of each slice of bread.
Layer one slice of cheese, one slice of ham, sliced avocado, and rocket on top of one slice of bread.
Drizzle honey over the rocket.
Top with the other slice of cheese and ham.
Place the other slice of bread on top, mustard side down.
Place the sandwich on the panini press or grill pan and cook for 3-4 minutes, or until the bread is golden brown and the cheese is melted.
Cut the sandwich in half and serve hot.
Enjoy your gourmet toasted sandwich with ham and all the other delicious ingredients!