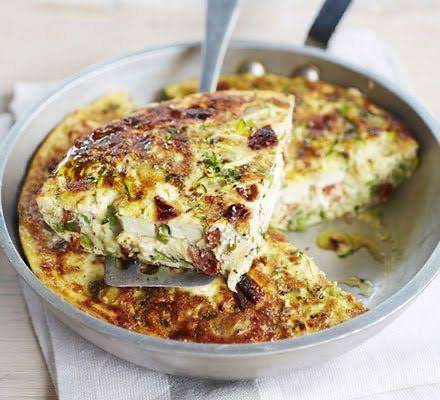 Ingredients:
1 tbsp olive oil
1 onion, diced
1 red capsicum, diced
2 cloves garlic, minced
250gm lamb mince 
8 large eggs
1/2 cup crumbled feta cheese
1/4 cup chopped fresh parsley
Salt and pepper, to taste
Instructions:
Preheat your oven to 175°C.
Heat the olive oil in a large oven-safe skillet over medium heat.
Add the onion and red capsicum and sauté until softened, about 5 minutes.
Add the garlic and lamb mince and cook until the lamb is browned and cooked through, about 8-10 minutes.
In a mixing bowl, whisk the eggs until light and frothy. Add the crumbled feta cheese and chopped fresh parsley and stir to combine.
Pour the egg mixture over the lamb and vegetables in the skillet. Gently stir to distribute the ingredients evenly.
Cook on the stovetop for 3-5 minutes, until the edges are set, and the bottom is lightly browned.
Transfer the skillet to the preheated oven and bake for 12-15 minutes, or until the center is set and the top is lightly golden.
Remove from the oven and let cool for a few minutes.
Slice into wedges and serve warm or at room temperature.
For a complete Mother's Day brunch, you could also include a side salad, fresh bread or muffins, coffee or tea, and a small gift or bouquet of flowers. Enjoy!