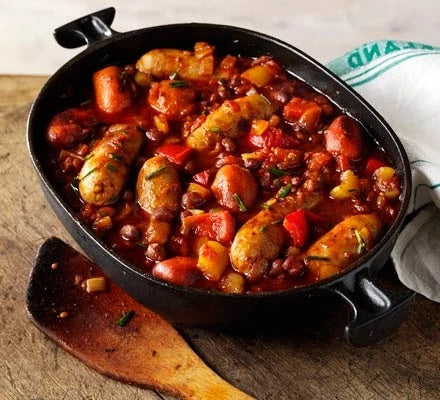 Ingredients:
8 sausages
1 tablespoon of olive oil
1 onion, diced
2 cloves of garlic, minced
2 carrots, peeled and diced
2 celery sticks, diced
1 red capsicum, diced
1 teaspoon of smoked paprika
1 tablespoon of tomato paste
400g can of chopped tomatoes
400g can of butter beans, drained and rinsed
250ml chicken stock
Salt and pepper, to taste
Fresh parsley, chopped for garnish
Instructions:
Preheat your oven to 180°C.
Heat the olive oil in a large oven-safe casserole dish over medium heat. Add the sausages and cook until browned on all sides. Remove the sausages from the pan and set aside.
In the same pan, add the diced onion, garlic, carrots, celery, and red capsicum. Cook for 5-7 minutes until the vegetables are softened.
Stir in the smoked paprika and tomato paste and cook for 1-2 minutes.
Add the chopped tomatoes and chicken stock to the pan and bring to a simmer.
Add the sausages back to the pan and nestle them in the tomato and vegetable mixture. Cover the dish with a lid or foil and place it in the oven for 25-30 minutes.
After 25-30 minutes, remove the dish from the oven and stir in the butter beans. Return the dish to the oven, uncovered, for another 10-15 minutes until the sauce has thickened and the sausages are cooked through.
Season with salt and pepper to taste, and garnish with chopped fresh parsley.
This sausage casserole is perfect for a warm and hearty meal on a cold winter night. Enjoy!