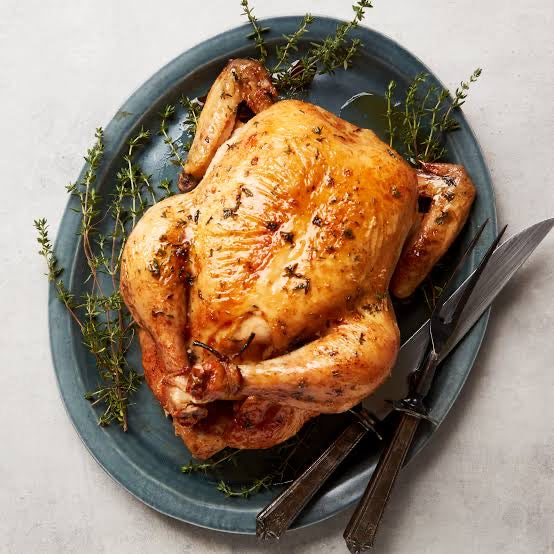 Roasting a whole chicken is a simple and cost-effective way to prepare a delicious family meal that everyone will love. Here's a basic recipe to get you started:
Ingredients:
1 whole chicken (about 1.5 - 2 kg)
Salt and pepper
1 lemon, cut into wedges
2-3 sprigs of fresh thyme
2-3 cloves of garlic
2 tbsp olive oil
Instructions:
Preheat the oven to 210°C.
Remove any packaging from the chicken and pat the bird dry with paper towels.
Season the chicken generously with salt and pepper, both inside and out.
Stuff the cavity with lemon wedges, fresh thyme, and garlic cloves.
Tie the legs together with kitchen twine and tuck the wings under the bird.
Rub the chicken with olive oil, making sure to coat it evenly.
Place the chicken on a roasting rack in a baking dish, breast-side up.
Roast the chicken in the preheated oven for 1 1/2 to 2 hours, or until a meat thermometer inserted into the thickest part of the thigh reads 74°C.
Let the chicken rest for 10-15 minutes before carving and serving.
There are many variations on this basic recipe, and you can customize it to your liking with different herbs, spices, and seasonings. You can also add vegetables like potatoes, carrots, and onions to the roasting pan to create a complete meal.
Roasting a chicken can be a simple and satisfying way to prepare a delicious and nutritious meal for yourself or your family. Give it a try and enjoy the savory flavors and juicy texture of perfectly roasted chicken!