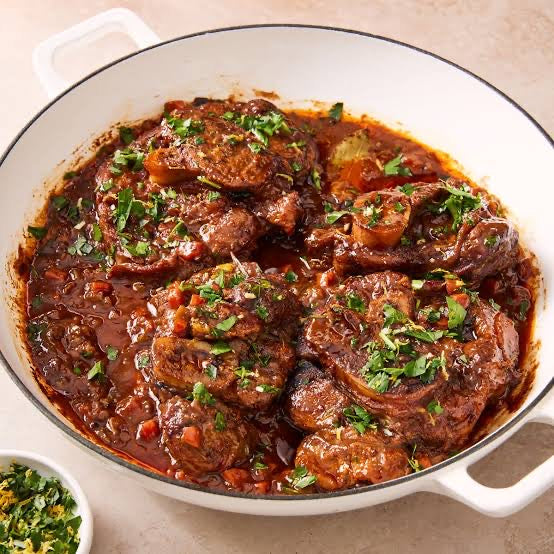 Ingredients:
2-3 servings of
Osso Bucco
(depending on appetites)
2 tbsp olive oil
1 onion, diced
3 cloves garlic, minced
2 carrots, peeled and diced
2 stalks of celery, diced
1 can diced tomatoes 
1 cup beef broth
1 cup red wine
2 tbsp tomato paste
2 bay leaves
Salt and pepper, to taste
1/4 cup fresh parsley, chopped (optional)
Instructions:
Heat the olive oil in a large pot or Dutch oven over medium-high heat.
Season the
Osso Bucco
pieces with salt and pepper and add them to the pot. Sear the meat until browned on all sides, about 3-4 minutes per side.
Remove the meat from the pot and set it aside.
In the same pot, add the onion, garlic, carrots, and celery. Cook until the vegetables are softened, about 5-7 minutes.
Add the diced tomatoes, beef broth, red wine, tomato paste, bay leaves, salt, and pepper. Stir to combine.
Return the Osso Bucco to the pot and bring the mixture to a boil.
Reduce the heat to low, cover the pot, and simmer for 2-3 hours, until the meat is tender and falling off the bone.
Remove the bay leaves and discard them.
Serve the stew hot, garnished with fresh chopped parsley, if desired.
This hearty and comforting Osso Bucco stew is sure to warm you up on a cold winter day. Serve it with crusty bread or over creamy polenta for a complete meal. Enjoy!