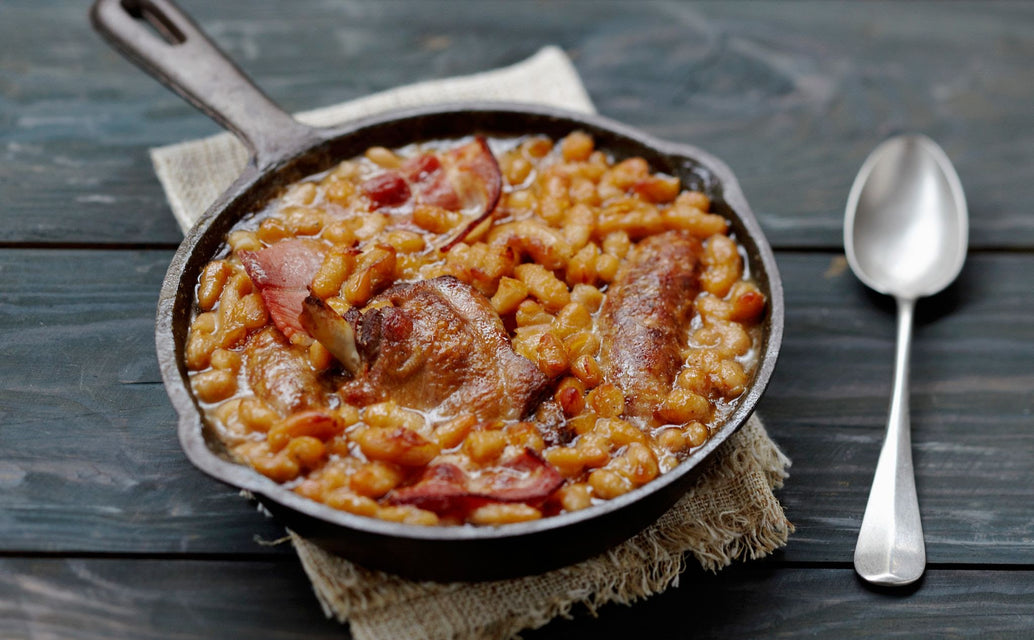 Introducing our French-style cassoulet, a comforting dish with tender white beans, savory meats, and aromatic vegetables.
This recipe brings the flavors of the French countryside to your table, topped with golden breadcrumbs and fresh parsley for an authentic touch.
Enjoy a taste of Provence in your own home!
Ingredients:
400g dried white beans (such as haricot or cannellini beans)
200g bacon, diced
1 large onion, finely chopped
4 cloves garlic, minced
2 carrots, diced
2 celery stalks, diced
2 bay leaves
4 sprigs fresh thyme
1 can (400g) diced tomatoes
750ml chicken or vegetable broth
250ml white wine
Salt and freshly ground black pepper, to taste
2 tablespoons olive oil
Breadcrumbs, for topping
Fresh parsley, chopped (for garnish)
Instructions:
Prepare the Beans:

Rinse the dried beans and soak them in cold water overnight. Drain and rinse them again. If using canned beans (it's ok, they're so convenient) rinse them under cold water before use.

Brown the Meats:

In a large, heavy-bottomed casserole dish or Dutch oven, heat the olive oil over medium-high heat.
Cut the meat into chunky portions, the bigger the pieces, the more rustic your dish will become!
Brown the pork and sausages on all sides until nicely browned. Remove and set aside.

Sauté the Aromatics:

In the same pot, add the diced bacon and cook until it becomes crispy.
Add the chopped onion, garlic, carrots, and celery. Sauté for about 5 minutes until they begin to soften.

Add the Beans and Herbs:

Stir in the drained beans, bay leaves, and thyme sprigs. Cook for another 2-3 minutes.

Combine the Ingredients:

Return the browned meats to the pot.
Pour in the white wine and let it simmer for a couple of minutes, scraping up any browned bits from the bottom of the pot.
Add the diced tomatoes (with their juices) and chicken or vegetable broth.
Season with salt and freshly ground black pepper to taste.

Simmer the Cassoulet:

Bring the mixture to a boil, then reduce the heat to low.
Cover the pot and let it simmer gently for 2-3 hours, or until the beans and meats are tender and the flavors meld together. Stir occasionally.

Preheat the Oven:

Preheat your oven to 180°C (350°F).

Top with Breadcrumbs:

Once the cassoulet is done simmering, remove the bay leaves and thyme sprigs.
Sprinkle a generous layer of breadcrumbs over the top of the cassoulet.

Bake:

Place the casserole dish in the preheated oven and bake for about 20-30 minutes, or until the top is golden brown and crispy.

Serve:

Remove the cassoulet from the oven and let it cool slightly.
Garnish with chopped fresh parsley.
Serve your French-style cassoulet hot, with crusty bread or a simple green salad on the side.
Enjoy your homemade cassoulet, a comforting and hearty French classic!