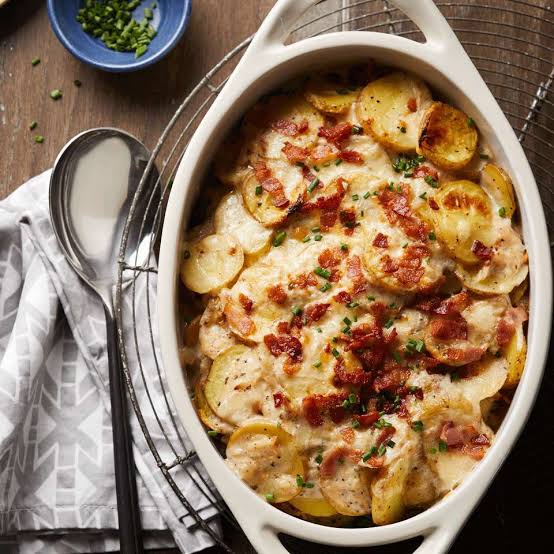 Indulge in the ultimate comfort food with this mouthwatering recipe for Scalloped Potatoes with Bacon, where layers of thinly sliced potatoes, crispy bacon, and creamy cheese come together to create a delightful dish that will leave you craving for more.
Ingredients:
4 to 5 medium-sized potatoes, peeled and thinly sliced
6 to 8 slices of bacon, cooked until crispy and crumbled
1 small onion, finely chopped
2 cloves of garlic, minced
2 cups shredded cheddar cheese
2 cups thickened cream
2 tablespoons plain flour
2 tablespoons butter
1 teaspoon dried thyme
Salt and pepper to taste
Chopped fresh parsley for garnish (optional)
Instructions:
Preheat your oven to 190°C. Grease a baking dish with butter or cooking spray.

In a skillet, melt the butter over medium heat. Add the chopped onion and minced garlic, and sauté until they become translucent and fragrant, about 2-3 minutes.

Sprinkle the flour over the onion and garlic mixture, stirring continuously for about 1 minute to cook off the raw flour taste.

Slowly pour in the thickened cream while whisking constantly to avoid any lumps. Continue whisking until the mixture thickens, about 2-3 minutes. Season with salt, pepper, and dried thyme, and mix well.

Layer half of the sliced potatoes in the greased baking dish, overlapping them slightly. Sprinkle half of the crumbled bacon over the potatoes, followed by half of the shredded cheddar cheese.

Pour half of the cream mixture evenly over the layers, ensuring all the potatoes are coated.

Repeat the layering process with the remaining potatoes, bacon, cheese, and cream mixture.

Cover the baking dish with aluminum foil and bake in the preheated oven for 45 minutes.

After 45 minutes, remove the foil and continue baking for an additional 20-25 minutes, or until the potatoes are tender and the top is golden brown and bubbly.

Once cooked, remove the dish from the oven and let it rest for a few minutes before serving. Garnish with freshly chopped parsley, if desired.
Serve these delicious scalloped potatoes with bacon as a side dish to complement your favorite meat or enjoy them on their own as a comforting and indulgent meal.