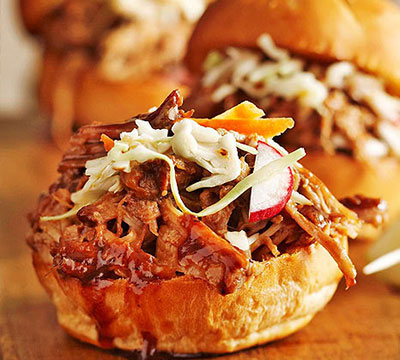 Slow Cooker Pulled Pork
Introducing our easy Slow Cooker Pulled Pork recipe. With just a few simple steps, even beginner cooks can create tender, flavorful pulled pork.
Season, then let the slow cooker work its magic, and enjoy delicious homemade pulled pork in rolls with slaw, with a salad as a mid week dinner, your meal prep made easy or however you like.
Ingredients:
1 tablespoon olive oil
1 onion, chopped
3 cloves garlic, minced
1 cup barbecue sauce
1/2 cup chicken or vegetable broth
2 tablespoons brown sugar
1 tablespoon smoked paprika
1 teaspoon ground cumin
1 teaspoon chili powder
Salt and black pepper to taste
Buns or rolls (optional, for serving)
Coleslaw (optional, for serving)
Instructions:
Prep the Pork:

Take your pork out of the fridge and any packaging, then pat dry with a paper towel
In a small bowl, mix together the smoked paprika, ground cumin, chili powder, salt, and black pepper. Rub this mixture all over the pork shoulder to season it (you can use mustard or olive oil as a base at this stage if you like more spice mix to stick to the pork).

Sear the Pork:

Heat the olive oil in a large skillet over medium-high heat.
Add the pork and sear it on all sides until nicely browned. This step adds flavor and texture to the meat.

Prepare the Slow Cooker:

Place the chopped onion and minced garlic in the bottom of the slow cooker.
Put the seared pork on top of the onions and garlic.

Create the Cooking Liquid:

In a bowl, mix together the barbecue sauce, chicken or vegetable broth, brown sugar, and a pinch of salt and pepper.
Pour this mixture over the pork in the slow cooker.

Cook the Pulled Pork:

Cover the slow cooker and cook on low heat for about 8 to 10 hours or until the pork is fork-tender and easily pulls apart.

Shred the Pork:

Once the pork is cooked, remove it from the slow cooker and place it on a cutting board.
Use two forks to shred the pork, pulling it apart along the natural grain of the meat.

Thicken the Sauce (Optional):

If you prefer a thicker sauce, you can strain the liquid from the slow cooker into a saucepan and simmer it until it thickens. Then mix it back into the shredded pork.

Assemble and Serve:

Serve the pulled pork on buns or rolls.
Optionally, top the pulled pork with coleslaw for added crunch and freshness.
Enjoy your homemade pulled pork! It's perfect for sandwiches, sliders, or even as a topping for baked potatoes. The slow cooking process makes the meat tender and full of flavor, and the barbecue sauce adds that classic smoky and tangy taste that everyone loves.